Maya Traditions partners with local university student to realize  professional internships in their area of study. Here, one of our recent interns, Ana Buch Chavez, shares her experience woking with Maya Traditions, in the area of Community Health:    
Programs Coordinator Marisol with artisan Vicenta and her grandfather, and local intern Ana on the right
My name is Ana Buch Chavez, and I am a student of Social Work. I thank Maya Traditions Foundation for giving me the space to realize my professional internship. As a student of Social Work, one of my responsibilities was the preparation of community assessments to support Maya Traditions and the communities it partners with.  The assessments were made to better understand the different needs experienced by the artisans and their families in terms of community health.
According to the assessments and investigation, many artisans express the need to implement a medicinal plant garden in their community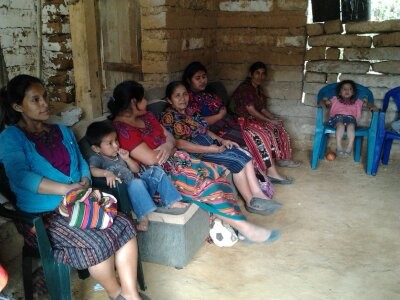 to contribute to the economy of the different families and increase access to medicinal plants—as many local health centers do not have medicine. Through workshops and talks, the women's knowledge on the benefits of medicinal plants would increase, and with this, the women would be able to identify the plants used to treat common illneses their families member experience with natural medince.
From this information, we then partnered with a group of students from the United States to implement workshops on medicinal plants. Furthermore, as one of Maya Traditions' objectives is to promote Maya cultures, the students were able to learn more about Tz'utujil culture and traditions.
With the students and a local association of healers, we held a clinic in San Juan La Laguna where midwives and a bonesetter atended to women, men, and children. They used medicinal plants to heal the common illnesses they saw.
In the community of San Juan La Laguna, a sister medicinal plant garden was implemented with the participation of the Programs Coordinator, the artisans from the local cooperative, and the students from the United States.