Flynn, founder of our partner organization MALENA, visited Maya Traditions this week at our headquarters in Panajachel, Guatemala. "It has been amazing to spend time with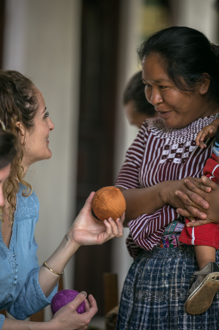 the artisans in the cooperatives, to see their wonderful work, and to learn more about their lives and stories. Their artisan products are the most beautiful I have seen in Guatemala." While traveling to our cooperative in San Juan La Laguna, taking a tour through our medicinal plant garden, and experiencing various Maya traditions in and around Panajachel, Flynn has received an in-depth experience and understanding of the hard work and life of indigenous women and their families. "These communities need to be celebrated, supported, and empowered. This is what I am trying to do with my company MALENA."
The name MALENA comes from the mapuche (indigenous Chilean) word for "girl." Flynn, an international human rights lawyer and social entrepreneur, discovered this name while living and studying in Chile. While there, she worked with a women's cooperative, helping to create an international market for their handmade products. When she brought these products to the U.S., they were immediately embraced by people enthusiastic about the gorgeous designs, and most of all, the beautiful story of resilience and courage behind them. Now, MALENA supports social enterprises, cooperatives, and NGOs in ten countries all over the world.
"The idea is to truly make an impact in people's lives, and to continue to look for innovative ways of doing so. Ultimately, these methods need to involve solutions that are sustainable and local." Flynn found the work of Maya Traditions Foundation while researching partners that could benefit from MALENA and were aligned with its mission of empowerment. "I appreciate Maya Traditions' holistic approach, always rooted in the best interests of the community. Maya Traditions truly tries to preserve local traditions, while also modernizing designs for a global audience, helping to create sustainable solutions and livelihoods for Maya communities around Lago Atitlán."
Learn more about Flynn and her business MALENA by visiting their website or shop on Instagram: @shopmalena, Facebook: @shopmalena, and Twitter: @shopmalena.