The success of our work at Maya Traditions is made possible through the constant support of volunteers. Here, we introduce volunteer Marlene who is currently supporting our work in Guatemala: 
Hola!
My name is Marlene, I am German and 29 years old. For the next two months, I will be supporting Maya Traditions in several Marketing activities. I have a bit more than three years practical experience in Marketing as well as theoretical experience due to my Master studies.
I decided to leave my job in Germany and travel to Guatemala about six months ago. My goal was to take a break, expand my practical knowledge by supporting a social project, and gain new and invaluable experiences.
The main areas of my work for Maya Traditions include content writing and story sharing in the many different social media channels. To gather the stories, I travel to the rural communities with Maya Traditions' staff, interview artisans and students, accompany client visits, and take photos. I also support in developing the social media strategy, improving Google ranking, and general marketing planning.
I have been with Maya Traditions now for almost 3 weeks and have been enjoying my work a lot. It supports my creativity, provides a space where I can contribute my ideas, share my hobbies, such as photography, all while learning a lot about an international NGO, Guatemala, and the realities that the Maya communities face today.
My time here so far has been very inspiring and I very much appreciate that I have gotten this opportunity. I hope time doesn't run by too fast!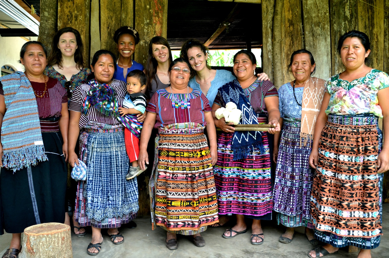 For more information on volunteering with Maya Traditions, visit: http://bit.ly/1IP0QT4