As members of the World Fair Trade Organization (WFTO), we at Maya Traditions are working to guarantee that our practices follow the 10 Principles of Fair Trade outlined by the WFTO. The 9th Fair Trade Principle states: Organizations which produce Fair Trade products maximize the use of raw materials from sustainably managed sources in their ranges, buying locally when possible.
No one can deny that environmental consciousness is a necessity to satisfy consumers in today's modern market. At Maya Traditions we recognize the importance of protecting the natural environment of Guatemala in the following ways:
Backstrap weaving is inherently environmentally friendly because this ancient "technology" does not require electricity.

We are proud to sell naturally dyed products that do not harm the environment as much as synthetic dyes. To learn more about our natural dye techniques, click

here.

We collaborate with leather and fabric tailors here in Panajachel. This allows us to maintain a low carbon footprint during the various stages of production.

We have recycling and compost bins at the office.

We grow organic plants at our amazing medicinal gardens in Panajachel and San Juan. We harvest these plants to make medicinal teas, tinctures, soaps, and shampoos that we sell locally.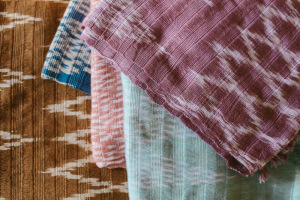 Looking to the future, we hope to improve our environmental impact by:
Investigating deeper on where our synthetic dyed threads are sourced from and how we can possibly source more ethically.

Investigating an extension of the natural dyed thread selection we offer.

Planting an organic medicinal garden in each of our 8 weaving communities.
 Stay tuned for future progress!